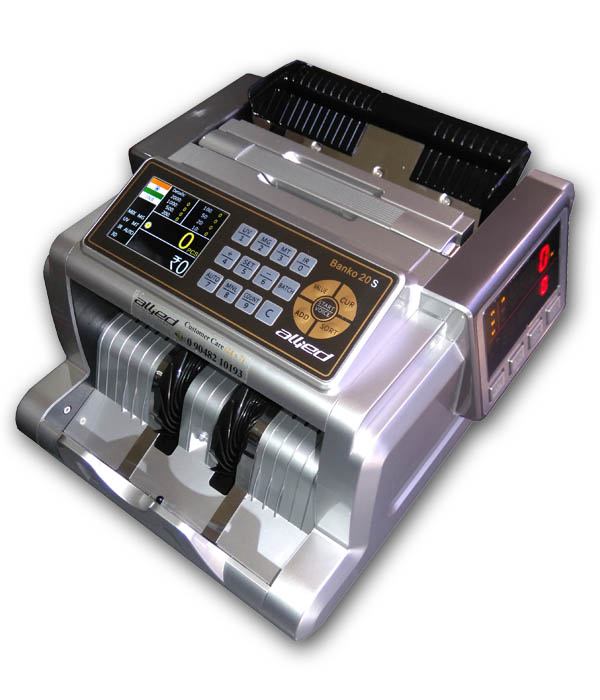 B 20 S
Mix Value Counting Machine
Specification and Features
Desktop banknote authenticating machine with mix value.
Specially designed for Indian Currency.
Most Suitable Machine for new version notes.
Updated Machine for new Rs.2000, new Rs.500, new Rs.200, new Rs.100, new Rs.50 and Rs.10
Software Upgradation
Multi Colour Main Display
Large LED Side Display with Easy operation Buttons
Sleep Mode
Can be updated to any new Currency in Future
Free External Display
Full report in main display with the number of notes, denominations and Total Value.
Demo: https://www.youtube.com/watch?v=VGZ98Nyjig4
catalogue : https://alliedelectronicscorporation.blogspot.com/2017/11/allied-b-20-bank-note-mix-value-counter.html
Notes issued Prior to 2005 will also be sorted as per RBI Circular.
PSS Sensor – First time in Counting machine
Operation Modes                  :       Authenticating Mode, MIX mode (Value), SORT Mode (Sorting), Count Mode, Batch Mode, Add Mode
Detection Features               :     MG, UV, IR, MT, 3D detections Size,Thickness, Half, Double Note detections, Spectrum sensor
Alert Indication                   :    Detection Codes, Fault Codes, Warning Sound
Hooper Capacity                 :    200 Notes
Stacker Capacity                 :    200 Notes
Speed                                     :    1200 Notes/minutes
Size of Countable Notes     :   190mm X 90mm
Note thickness                     :   0.06 mm to 0.12 mm
Power Supply                       :   230V AC, 50Hz
Power Consumption           :   75W
Note : Counting accuracy and detection errors may vary due to currency condition. The company is not liable for any losses caused by the same.