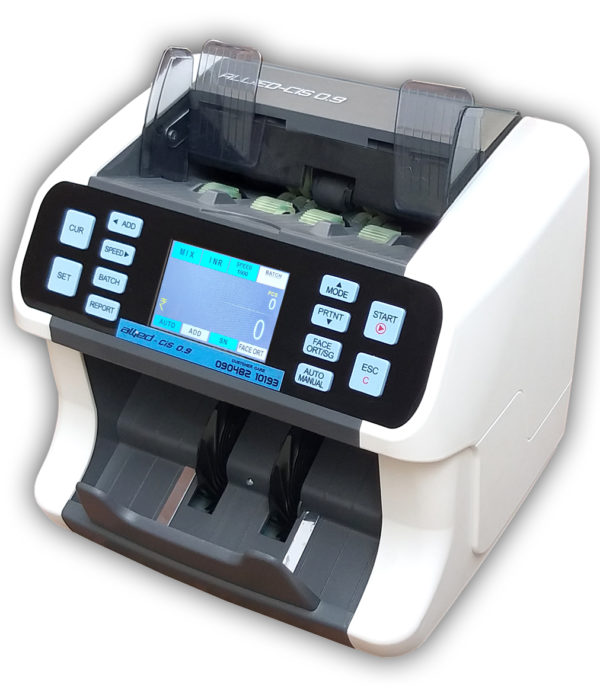 Allied CIS 0.9
Allied CIS 0.9 - Next generation currency counting machine
Specification and Features
The Allied CIS 0.9 note scanners has industry -leading speeds of up to 1,200 notes per minute significantly reducing processing time, handling errors. This high performance bank note authentication machine with CIS (Contact Image Sensor) recognises note denominations more efficiently, resulting in stops for difficult-to-read notes. That's why this machine is more effect for finding Counterfeit notes. Allied CIS 0.9 captured every note's serial number and stored. These database can be stored to a pen drive. Easy access to the banknote transport section to remove miscued notes and carryout.
Detects UV (ultraviolet), MG (magnetic), MT (magnetic thread), Reflected IR mapping and Penetration IR mapping of banknotes.
Compact size user friendly interface with large and clear 3.5 inch TFT display
Auto adjustable technology easy software upgrade via USB port
Full open channel design for better maintenance and jam removal
Specification
Detection                   CIS, MG, UV, MT, IR
Mode                         MIX, SORT, CNT, SG(Can be select Specific Denomination)
Counting Speed        800 / 1000 / 1200
Note Thickness         Min (0.08mm) Max(0.12mm)
Note Size                  Min 60mm(width) x 110mm(Length)
                                 Max 90mm(width) x 185mm(Length)
Feed System            Roller Friction System
Hopper Capacity      400 to 500
Stacker Capacity      200 Notes
Dimension                13.8"(W) Weight 7.5KGS/ 16.5lb
Power Supply            AC 230V +- 10%, 50/60Hz
Current Maximum      0.7A
Note : Counting accuracy and detection errors may vary due to currency condition. The company is not liable for any losses caused by the same.